Domestos – Domestos's germ-killing expertise has seen the business double in a decade and made the brand a trusted favourite around the world. Now it is building on its unstoppable power with a powerful purpose aimed at ensuring that clean and safe toilets are a reality for everyone.
Where we started
The story of Domestos started in a garden shed in Newcastle, in the north of England, in 1929. It was the brainchild of 25-year-old dental mechanic William Handley who sold his solution of sodium hypochlorite door to door for use as a steriliser, drain cleaner and even a treatment for sore feet (not recommended anymore).
By 1952 Domestos was gaining significant market momentum and being sold nationally through retail outlets, marketed under the slogan 'Kills all known germs' – a catchphrase that is still synonymous with the brand today.
In 1961 Unilever acquired Domestos and expansion began in all senses of the word.
The start of the new millennium saw the launch of a flurry of new formulations, starting in 2003 with the brand's thickest-ever product, Domestos Oxygen bleach, followed in 2004 by the bold new Pink Power, and in 2005 with Aqua Blast.
The following years would see Domestos expanding its portfolio to new formats with innovations like Domestos Sink & Pipe Unblocker, Total Blast Toilet Gel, Germ Blaster and Rim Blocks.
How's it going
Today Domestos boasts a wide portfolio that includes bathroom sprays, kitchen products and floor cleaner, as well as its core range of toilet cleaners.
Unlike many of its competitors that offer acid-based cleaners, Domestos's bleach-based formula allows it to deliver impressive cleaning performance while also being 100% biodegradable.
Thanks to both the superiority of the products and range available, Domestos has seen its business double in size in the last ten years. Sold in over 45 countries under a variety of names, including Domex in India and Vim in Argentina, Domestos is leading in nearly all the markets where it operates.
Thanks to both the superiority of the products and range available, Domestos has seen its business double in size in the last ten years.
The introduction of Domestos in Turkey in the early 2000s effectively converted the market to the merits of thick bleach, with turnover increasing sixfold in the last ten years. Vietnam has also seen huge market growth over the last decade, with Domestos acquiring 50% penetration, while South Africa's business has tripled, also in the last decade.
"Domestos's success in the markets is undoubtedly linked to performance superiority and consumer trust in a product that will get the job done," says Shuchi Suri, Head of Household Cleaning & Hygiene at Unilever. "Efficacy, convenience and maintenance are the key innovation drivers for the brand, and new products have increasingly provided solutions to localised issues."
For example, Domestos has introduced market innovations based on different toilet and water types in Vietnam and India, including products enhanced with surface modification technology (see more below) that keeps toilets clean and odour free for up to 72 hours.
But it is not just new products that are powering Domestos's growth, the brand is also continuously improving existing ones. Domestos introduced its first toilet block in the 1990s and has been stepping up its power ever since. The new Power 5 block, for example, is now longer lasting – delivering fragrance and cleaning power for up to 300 flushes.
The purpose that powers it
Supporting public health has been an inherent part of the Domestos legacy, dating back to the 1950s when it was involved in the UK public health campaign supporting polio vaccination.
So it is not surprising that when the Covid pandemic hit, Domestos carelines in the UK and worldwide lit up with consumers asking what products to use to kill coronavirus and how to disinfect their home.
"It was clear at that point that we needed to step in and complement the advice of government and public health bodies," says Peter ter Kulve, President, Unilever Home Care. "We did this by partnering with Dr Lisa Ackerley, who was able to provide the general public with practical cleaning information, regardless of the brand they use."
But Domestos's purpose to support public health reaches well beyond Covid. Through its ten-year partnership with UNICEF and its own 'Cleaner Toilets, Brighter Futures' (CTBF) school O&M toilet programme (for operation & maintenance), Domestos has to date helped 29 million people get access to a clean and safe toilet and has committed to helping 100 million people by 2030 (see below, Purpose: All Toilets Are Gold).
Purpose: All Toilets Are Gold
Watch: #Alltoiletsaregold
For over ten years Domestos has been working to make clean toilets a reality for everyone, not the privilege of the few.
Now Domestos is calling for all toilets to be cared for as though they were precious gold."A toilet is easily taken for granted," explains Shuchi. 
"But one in three primary schools worldwide don't have a useable toilet. Domestos's own global research found that nine in ten children face issues with their school toilets, both in developed and emerging markets, impacting them physically and emotionally.
"The challenge of helping everyone gain access to safe sanitation is two-fold: simply having toilets and then keeping them in use. Despite mass toilet-building efforts over the last ten years, 3.6 billion people still do not have access to a clean safe toilet.
Without ongoing maintenance, toilets start dropping out of use as soon as they're built and the gap in access gets wider. Domestos is working to stop this pointless loss by showing how a small investment in maintenance can keep toilets in use for longer.
"The focus of the last decade has been on toilet building," says Shuchi. "But now the evidence shows that building toilets alone is not enough. We have to turn the spotlight on the benefit of MAINTAINING them and the consequences of not doing so."
Packaging: The greener blue bottle
Domestos bottles have been recyclable for some time. However, in August 2022, Domestos went a step further in the UK by relaunching the core 750ml bleach range, with bottles made from 50% post-consumer recycled plastic (PCR).1 
Made from high-quality recycled resin to ensure the bottle is strong and durable, the change is set to save 1,505 tonnes of virgin plastic per year2 without losing on the distinctive colours of the brand packaging.
Claire Racklyeft, Home & Hygiene Category Lead, Unilever UK&I, comments: "We know it's important to shoppers that big brands take action to tackle plastic waste, so we're already working towards bottles made with 100% recycled plastic."
The move is part of the larger Unilever's Home Care Clean Future commitment to fundamentally change the way that some of the world's best-known cleaning and laundry products offer superior cleaning, sustainability by design and affordability for the many.
Product: Innovation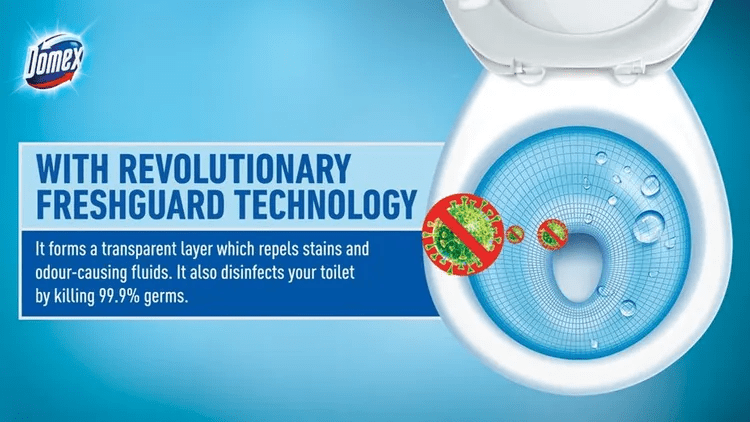 Addressing consumer pain points has fuelled many innovations, including the introduction of a new fresh guard formula to tackle the issue of odour and limescale in India.
By creating a non-stick protective layer on toilets that prevents both stains and germs from building up, the new formula kept toilets odour free for up to three days.
In blind tests, the product beat the market leader for the first time in the history of the brand in India.
It might surprise you to learn…
It was Domestos that successfully campaigned to help get World Toilet Day ratified as a UN day back in 2013. The brand also founded the Toilet Board Coalition with Lixil and Kimberly-Clark to champion the value of the private sector in tackling sanitation challenges.
Iconic Ads
The Reality of Unsafe Toilets
This campaign highlighted the reality of unsafe toilets that schoolchildren in South Africa face, in addition to facing the Covid-19 pandemic. It calls attention to the importance of the Domestos Cleaner Toilets, Brighter Futures campaign.
Germaggedon: The power of animation
This campaign featured animated germs: a population that would be the stars for many Domestos campaigns. The distress of these slimy stars would prove highly effective in grabbing audience attention and highlighting the high performance of the products.
Watch: NEW Domestos Bleach – 2017
Unstoppable: The voice of Domestos
Domestos was given its own voice in this ad aimed at promoting its efficacity inside the bathroom and beyond. Echoing the brand's traditional catchphrase, 'kills all known germs', it also featured the'Unstoppable' slogan.