Bill Gates was accompanied by representatives from the Bill & Melinda Gates Foundation and Breakthrough Energy to discuss ways to strengthen cooperation with the EIB on sustainable human development, innovation, health, and clean energy.
Today, Bill Gates and representatives from the Bill & Melinda Gates Foundation and Breakthrough Energy visited the Luxembourg headquarters of the European Investment Bank (EIB), the world's largest international public bank, to further strengthen cooperation between the EIB and these two organizations in their respective areas of work.
"Closer cooperation between organizations like ours is essential to improving global health, enhancing food security, unlocking clean energy innovation, and delivering sustainable human development," said Werner Hoyer, President of the European Investment Bank.
Accelerating clean energy innovation
During the visit, Breakthrough Energy and the EIB signed a memorandum of understanding to enhance cooperation to accelerate clean energy transition, support cutting-edge research, develop and mobilise investment to commercialise innovation, and implement the EU Catalyst partnership.
The new agreement builds on EUR 50 million EIB backing for the Breakthrough Energy Ventures-Europe to scale-up deployment of new technology to replace fossil intensive energy use and joint support by the EIB and European Commission for the Breakthrough Energy Catalyst program made by Werner Hoyer and European Commission President von der Leyen at COP 26 in Glasgow last year.
The agreement will also enable closer cooperation between the Breakthrough Energy Fellows Program and the EIB Institute. The Fellows program is designed to ensure early-stage entrepreneurs working on ground-breaking scientific solutions have the R&D funding, educational resources, and network they need to realize the full potential of their technology.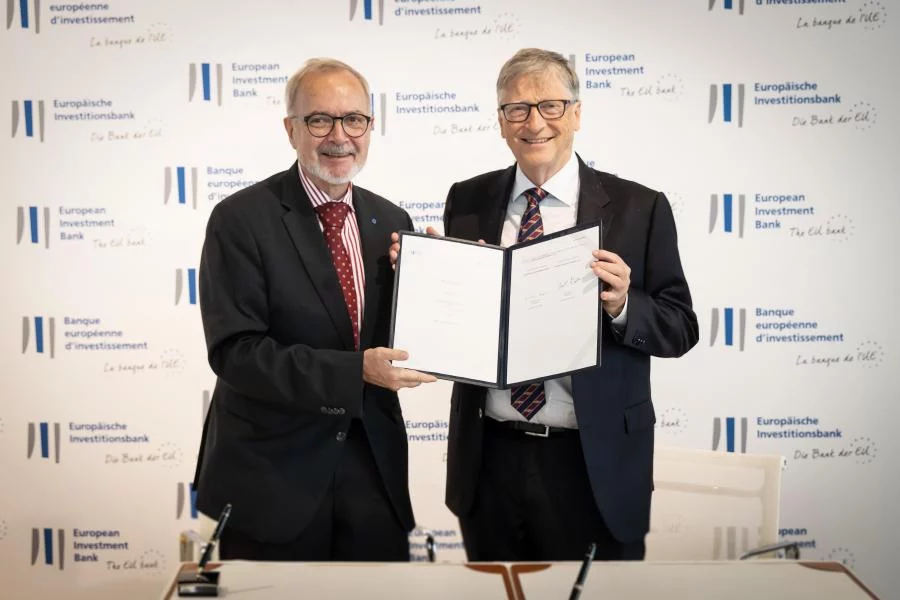 Targeting investment for sustainable development
The visit furthermore included discussions on current cooperation between the Bill & Melinda Gates Foundation and the EIB to improve global health and development outcomes, including tackling malaria and polio.
EIB experts outlined recent support for financial inclusion, targeting gender equality and agricultural financing through EIB Global, the EIB's recently launched dedicated development finance arm.
Background information:
Breakthrough Energy was founded by Bill Gates in 2015 to accelerate the clean energy transition and help the world reach net-zero emissions by 2050. Through investment vehicles, philanthropic programs, policy advocacy and other activities, Breakthrough Energy is committed to scaling the technologies the world needs to meet its climate goals. Learn more about Breakthrough Energy at breakthroughenergy.org.
The Bill & Melinda Gates Foundation is a non-profit organisation guided by the belief that every life has equal value. The foundation works to help all people lead healthy, productive lives. In developing countries, it focuses on improving people's health and giving them the chance to lift themselves out of hunger and extreme poverty. Learn more at https://www.gatesfoundation.org/.