Samsung Galaxy x MSFTSrep Eco-conscious Collection features accessories for Galaxy S23 Ultra, Galaxy Z Flip4, Buds2 Pro and Galaxy Watch bands, along with matching watch face designs.
The Collection is available for purchase on Samsung.com starting today, April 13 with products starting at $29.99.
This is the third installment of the consciously sourced Galaxy accessories series developed in partnership with eco-conscious designers to showcase the dynamism of fashion, sustainability, and technology.
This year, to celebrate Earth Month, Samsung is releasing the next installment of eco-minded accessories, the Samsung Galaxy x MSFTSrep Eco-conscious Collection – a limited edition accessories collaboration in partnership with MSFTSrep founder, designer, and artist JADEN. The collection features four styles of accessories made from consciously sourced materials for the Galaxy S23 Ultra, Galaxy Z Flip4, Galaxy Buds2 Pro and Galaxy Watch bands and matching watch face designs. The limited-edition collection of Galaxy accessories is available to purchase on Samsung.com today, with products starting at $29.99.
MSFTSrep is more than just a clothing company. It aims to spark movement around the love of fashion and individuality, social equality and protecting the environment – a concept that unites so many. In fact, a recent study by NielsenIQ found that 78 percent of US consumers say that a sustainable lifestyle is important to them.[1]
"I think the public shift towards sustainability is amazing because people are waking up and realizing what we actually have to do to change the world," stated JADEN. "We have to change the way that we produce and the way that we consume, and everyone is waking up."
Wear Your Values
Drawing inspiration from the planet's renewable resources, JADEN is passionate about shifting the evolution of tech through his designs. Understanding the responsibility that comes with being a designer, he is consistently keeping sustainability at the forefront of his creative processes. For both Samsung and JADEN, the vision in this collection is to expand sustainability measures in fashion and encourage shoppers to consume wisely.
The Samsung Galaxy x MSFTSrep Eco-conscious Accessories Collection features designs lifted from his MSFTSrep collections with four bold graphics created by JADEN himself – MSFTSrep Spiral, MSFTSrep Classic, MSFTSrep Snowprint, and MSFTSrep Wavy Rainbow. The product line contains eco-conscious materials[2], and the packaging consists of recycled paper and card stock printed with vegetable ink.
With devices always in hand and at our sides, they have become an integral part of our lives and daily routines. Today, designers and Samsung are merging fashion and sustainability, creating accessories that allow consumers to show off their personal style and their commitment to the environment.
Reduce, Reuse, Re-Wear with Samsung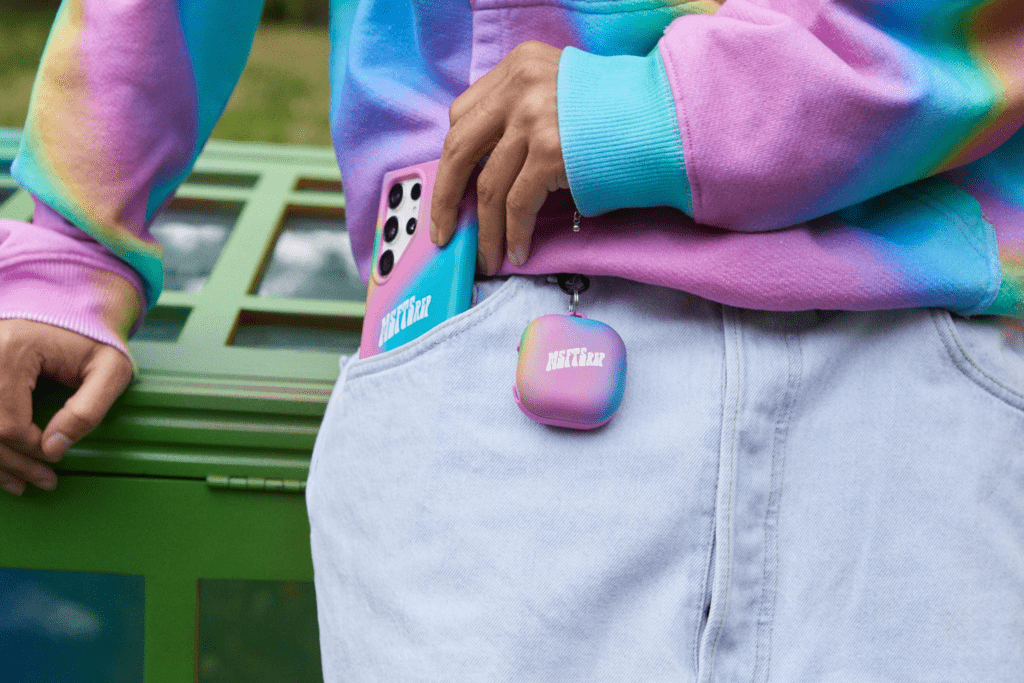 Samsung's first sustainable series launched in 2021 with Sami Miro, a Los Angeles based designer and founder of Sami Miro Vintage. The collection featured six watchbands and three watch faces designed for the Galaxy Watch4 series. Following Miro's line, Samsung partnered with Sean Wotherspoon, co-founder of Round Two and creator of Sean Wotherspoon Designs for Earth Day in 2022. Wotherspoon released a sustainable accessories collection that included three cases for the Galaxy S21, three matching watchbands for the Galaxy Watch4 series, and complimentary watch faces.
The sustainability series is part of Samsung's broader efforts to commit to long-term change with their Galaxy for the Planet initiative – the company's pledge to reduce Samsung's environmental footprint and increase the use of recycled material in all newly released mobile products by 2025. Green consumers can also benefit from Samsung's Certified Re-Newed program that refurbishes and repurposes gently used phones, and guarantee like-new conditions to avoid landfill waste.