A look at some of the latest wedding search trends.
We tend to think about "proposal season" as timed to the winter holidays, or big days like New Year's Eve and Valentine's Day. The actual proposal peak, though? September. With the exception of 2020, every year for the last five years, search interest in marriage proposals has peaked every September in the U.S. Who knows whether it's the smell of pumpkin spice lattes or the new school year, but for whatever reason, this is when Americans these days prefer to get down on one knee.
To celebrate all the new fiancés out there, we're taking a look at some of the trending wedding-related searches of the past year.
Give me a ring
If you're curious what people who are thinking about taking that next step are searching for, take a look at some of these proposal-related searches over the past year in the U.S.
Top questions on marriage proposals
How to propose to a girl?
What knee do you propose on?
How soon is too soon to propose?
Should I propose before or after dinner?
How to get your boyfriend to propose?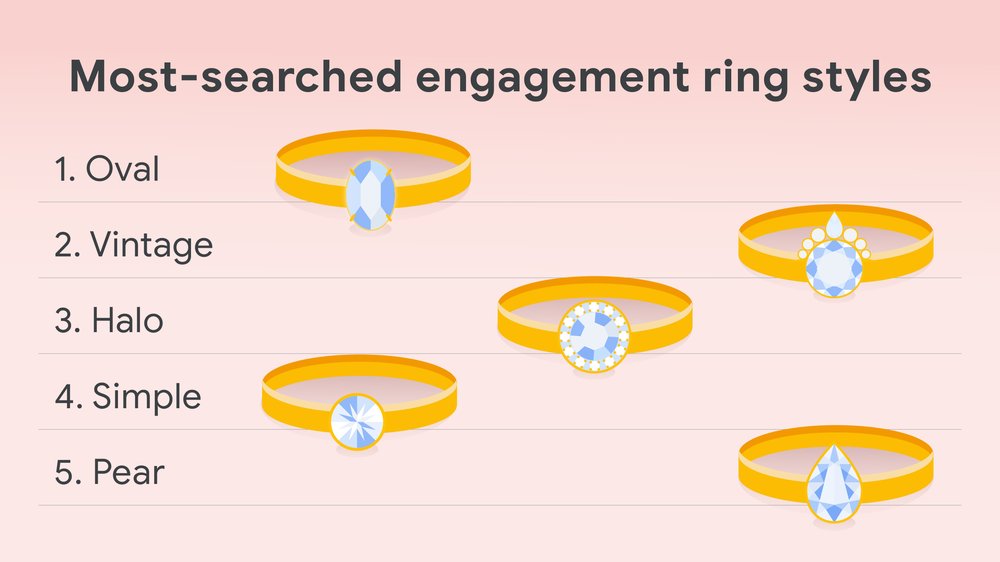 The most-searched engagement ring styles over the past year in the U.S.
Wedding: Most-searched engagement ring stones 
Diamond
Moissanite
Sapphire
Emerald
Opal
Most-searched celebrity engagement rings
Ariana Grande
Gwen Stefani
Patrick Mahomes
Jennifer Lopez
Beyoncé
Wedding: Pre-marital party time
Of course, before anyone walks down the aisle, there are those other celebrations that have to happen. Here are some of the most popular queries regarding the pre-party parties over the past year in the U.S.

Bachelorette party (blue)is searched almost two times more than Bachelor party (red) in the U.S.
Top questions on bachelor parties
What is a bachelor party?
When do you have a bachelor party?
Where did bachelor parties originate?
What do guys wear for bachelor parties?
What do guys do for bachelor parties?
Top questions on bachelorette parties
How to plan a bachelorette party?
What is a bachelorette party?
Who plans the bachelorette party?
Who pays for the bachelorette party?
What to wear to a bachelorette party?
Dressed to impress
According to Google Trends data, the most-searched celebrity wedding in the U.S. is Kim Kardashian's 2011 wedding to Kris Humphries. It's likely inspired a few ceremony trends since — and while we're on the subject, here are a few others: Sure, white wedding dresses are classic, but in August 2021, searches for "black wedding dress" reached a record high in the U.S. "Wedding jumpsuits" reached a new high this year in the U.S., too.

Here are a few other fun wedding Search trends we noticed over the past year in the U.S.
Most-searched types of wedding dresses
Boho wedding dress
Beach wedding dresses
Mermaid wedding dress
Simple wedding dress
Short wedding dress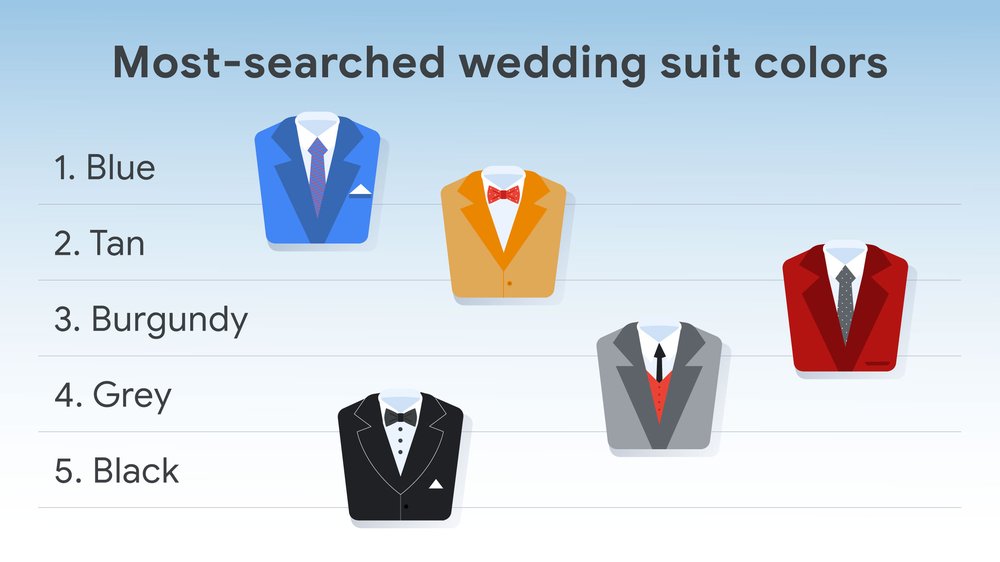 The most-searched wedding suit colors over the past year in the U.S.
Most searched celebrity wedding dresses
Meghan Markle
Kate Middleton
Gwen Stefani
Ariana Grande
(Princess) Diana