Linguistics professor Svetlana Drugoveiko-Dolzhanskaya's 41-year career teaching at St. Petersburg State University (SPGU) came to an end on October 13 — a Friday, as ill luck would have it. The esteemed educator, who created and headed the university's master's degree program in editing and textual criticism, was fired for "immoral activity…incompatible with a university position," according to her dismissal letter.
"That was the same formulation they used when they fired Sokolov," she told Current Time, the Russian-language network led by RFE/RL in cooperation with VOA, referring to former SPGU historian Oleg Sokolov, who was dismissed in November 2019 after being arrested for murdering and dismembering a postgraduate student with whom he was having an affair.
Drugoveiko-Dolzhanskaya's "crime" was far less sordid but apparently comparable in the eyes of the university's Ethics Committee: She wrote an exculpatory linguistic analysis at the request of the defense team of artist and musician Aleksandra Skochilenko, who faces up to 10 years in prison for allegedly spreading false information about the Russian armed forces.
"'Do you really not understand that if you are hired by the defense, you are already a compromised expert?'" she recalled a member of the committee asking her during a hearing in late September.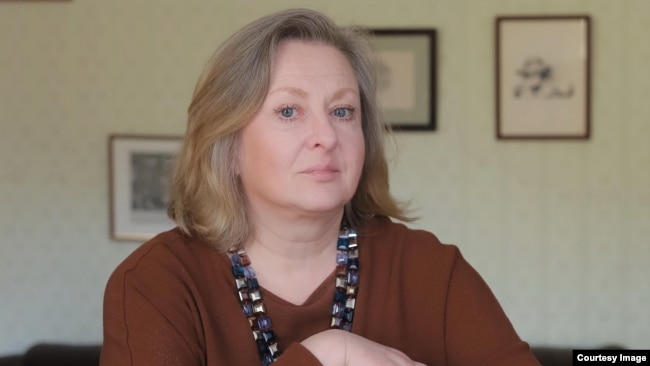 Drugoveiko-Dolzhanskaya told Current Time that several other faculty members were fired and several students expelled as a result of the same September session of the Ethics Committee, although they have not made their cases public. But information that is available publicly indicates the university, from which Russian President Vladimir Putin graduated in the 1970s before embarking on a career with the KGB, is continuing and intensifying a purge of dissent that began even before Russia's full-scale invasion of Ukraine in February 2022.
"It is a genuine cultural pogrom based on political and personal motives," said former SPGU philosophy lecturer Denis Skopin, who was dismissed in October 2022 for attending a protest against a mass military call-up that Putin ordered that September. Skopin said he believes the purge is being overseen by SPGU rector Nikolai Kropachev, an activist with the ruling United Russia political party and a member of Putin's advisory panel on science and education who has headed the university since 2009.
"I wouldn't want to work at SPGU," Skopin said. "It is run by a pro-war person who is methodically eliminating everyone who does not agree with what is going on in the country."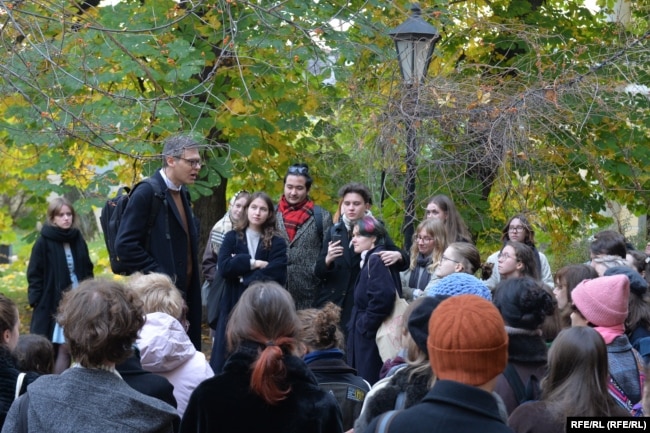 Drugoveiko-Dolzhanskaya said the since the invasion of Ukraine, the SPGU linguistics department "has lost a large number of excellent instructors." Some, she said, left Russia while others found work elsewhere or were removed from their positions.
'It Will Only Get Worse'
Kirill Kaverin was a second-year SPGU politics student until he was expelled in late August, just before the beginning of the new school year. Surprisingly, Kaverin was not expelled for dissenting against the war but for participating in a protest against the demolition of a landmark building in St. Petersburg's Petrograd district in May.
During the protest, Kaverin and two others entered the site to stop the demolition. They were forcibly detained by workers, who held them until police arrived. Kaverin says the workers doused them with water while they were waiting.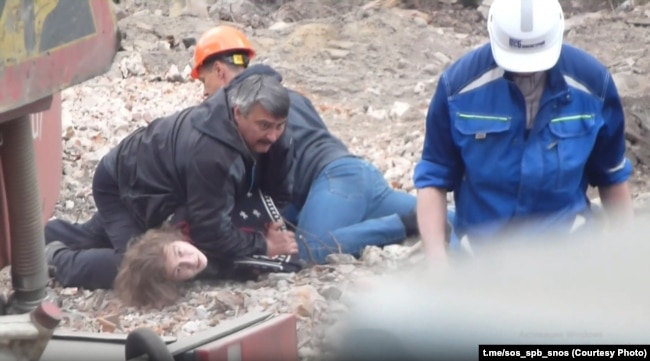 Kaverin told RFE/RL's North.Realities that while they were in police custody they were interrogated and threatened by an officer of the Interior Ministry's anti-extremism center, colloquially called Center E.
"He told me he knew where I was studying and that I was about to have big problems there," Kaverin said. "He was swearing the whole time."
Kaverin was sentenced to 12 days in jail for "petty hooliganism." In August, he was summoned by university officials to explain the incident, and in October he was expelled.
"Officially, they expelled me for violating the SPGU charter, but they didn't say exactly what that violation was," Kaverin added.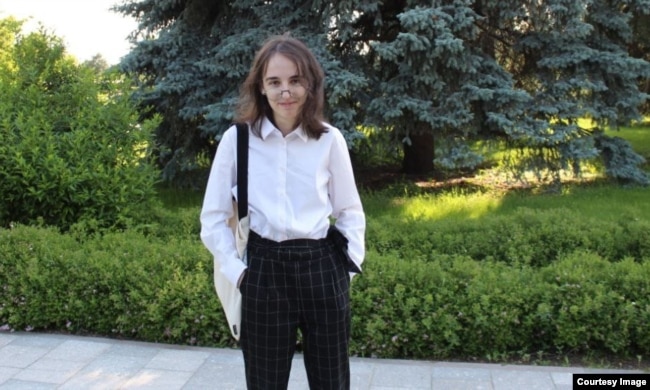 In August, SPGU officials opened proceedings against Aleksandra Zaitseva, the editor of a student magazine called Studen. The Ethics Committee summoned her because of her written defense of several SPGU history students and a history lecturer who were removed from the university in the summer of 2022 over their anti-war statements.
"If we are silent, it will only get worse," she wrote in a post on Studen's VK social media account.
As soon as the post appeared, Zaitseva told RFE/RL, denunciations and complaints began pouring in.
"They write that I am a wanton woman and that I should be beaten," she said.
She did not attend the hearing where her case was discussed but was informed that members argued her conduct "showed disregard for the reputation" of the university and that she was "undeserving of being a student."
Zaitseva is awaiting a resolution to her case.
'For Your Freedom And Ours'
The seven SPGU students Zaitseva was defending were expelled in the summer of 2022 after comments they had written in a closed university chat were published by pro-Kremlin, pro-war social media channels. One of the channels said the university was harboring "a cell of nascent Russophobes."
"Their original plan was to send screenshots of our comments about the war, Putin, and the government's policies to the Ethics Committee so that they would expel us," said one of the students, Dmitry Kuzmin. "But in the end they were even more clever. They didn't send them to the Ethics Committee but to some [pro-Kremlin channels]. After they created a media storm, the administration started moving."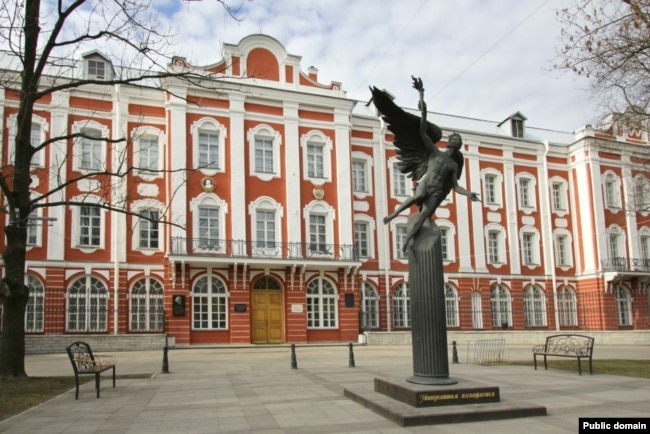 History lecturer Mikhail Belousov was dismissed after being accused of calling the invasion of Ukraine a "war" during a lecture instead of using the Kremlin's mandatory euphemism "special military operation."
Earlier this month, Kuzmin was expelled once again, this time from the history department of the Herzen Pedagogical University, indicating such politically motivated purges are not unique to SPGU. His expulsion came after he appeared in the center of St. Petersburg carrying a banner reading "For Your Freedom And Ours. Peace To Ukraine. Freedom To Russia."
Kuzmin told RFE/RL that the expulsion was based on a letter sent by St. Petersburg Center E Director Aleksei Shabanov.
"At the Ethics Committee, they said the denunciation had been written by [Shabanov]," Kuzmin said. "The expulsion order was signed by the rector. Interestingly, there is no reason stated in the order. I expected a reprimand."
RFE/RL was shown the expulsion order, which said only Kuzmin was expelled by a decision of the Ethics Committee, without any other explanation.
Former SPGU philosophy lecturer Skopin was dismissed in October 2022 after spending 10 days in jail for protesting Putin's military mobilization.
Twenty-one of his colleagues signed on open letter to the university asserting Skopin's "lofty professional and personal qualities" and that "he exercised well-earned authority among his colleagues and students." After he held his last lecture at the university, students escorted him from the premises with cheers and ovations.
Now living in Berlin and teaching his courses online, Skopin says he does not regret participating in the protest.
"It is important to me to be able to say what I think," he told Current Time. "Before the war, it was possible to do that at the university. When you are used to speaking freely, it is impossible to suddenly become quiet."
"A university is structure that degrades and crumbles in the absence of freedom," he concluded. "Without freedom, a university cannot survive."