Marat makes a net income of about $215 a month, which he says is enough for a comfortable life as a young, single man in the Kazakh town of Oral, which he now calls home.
The 20-year-old junior computer developer left his native city of Kazan, the capital of the Russian republic of Tatarstan, on September 22, 2022, a day after Moscow announced a military mobilization to bolster the depleting ranks of its forces in Ukraine.
In Oral, in West Kazakhstan Province, Marat has found it "relatively easily" to find a full-time job and rented accommodation. He asked that his full name not be published, saying that he feared for the safety of his mother, brother, and grandmother, who still live in Kazan.
Like many Russian émigrés in Kazakhstan and elsewhere around the region, Marat isn't planning to go back to Russia anytime soon. Many émigrés fear a second military mobilization or Russia's future economic collapse, due to sanctions and international exclusion.
Rather than return home, Marat would like his relatives to move to Kazakhstan. "They agreed to relocate, because even if the war ends, the sanctions against Russia would still remain," Marat says. "Besides, life is good in Kazakhstan."
More than 930,000 Russians — mostly conscript-aged men — entered neighboring Kazakhstan after September 21, 2022, to avoid the risk of being drafted to war. Since then, the majority of them have left for other countries.
Nearly 146,000 of them remained in Kazakhstan, according to Kazakh Interior Ministry figures released on December 21, 2022, three months after the major influx of Russians.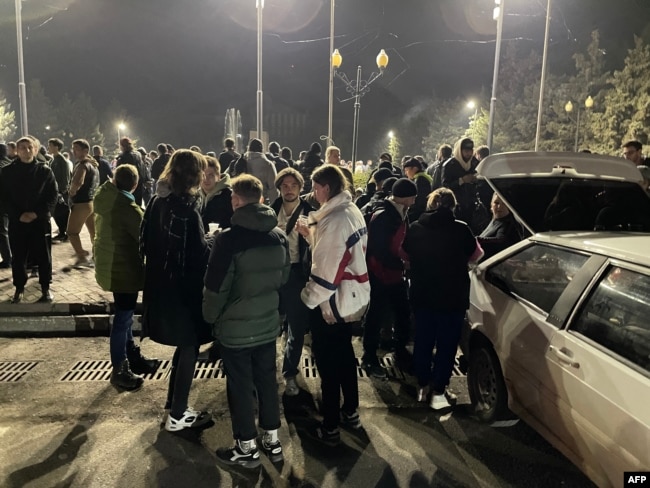 Some 36,000 of the new émigrés have been granted temporary residency permits, the ministry said. And the authorities have received 3,578 applications for permanent residency from Russian citizens since September 21, 2022. According to Kazakh officials, around 300,000 Russians citizens currently live in the country.
With no end in sight for the conflict in Ukraine, many Russians fear that another mobilization could take place in early 2023, possibly triggering a new wave of migration — but also a requirement that they go home.
Kazakhstan has said it would extradite Russians wanted for evading mobilization if they were put on an international wanted list by Moscow.
However, so far, only a handful of Russians have been ordered back home. In the most high-profile case, Astana deported an officer from Russia's Federal Security Service (FSB) in December 2022. The officer, Mikhail Zhilin, was on Russia's wanted list.
Initial fears that the influx of Russians could potentially lead to ethnic tensions or negatively impact Kazakhstan's social makeup have subsided, especially when more than two-thirds of the émigrés left the country within weeks.
In-Demand Specialists
The arrival of the Russians did cause rent prices to triple in some cities overnight. According to the krisha.kz real-estate website, prices for one-room apartments in middle-income areas of Almaty spiked from about $415 to $1,040 per month.
With the exception of big cities, like Almaty, and some towns close to the Russian border where many émigrés have settled, the rent prices have largely gone down to pre-mobilization levels.
Many Russians have had no problems finding employment in Kazakhstan. Local employers were quick to place job ads online, including Telegram channels popular with Russian émigrés, to attract in-demand specialists and workers.
One district hospital in the town of Ayagoz, in Kazakhstan's eastern Abai Province, advertised 20 job vacancies for Russian doctors, offering them "comfortable housing" as an incentive. Similar job ads were reported from other Kazakh regions bordering Russia.
According to Kazakh media, there are many doctors, teachers, computer specialists, and farm and service workers among the Russians who decided to remain in Kazakhstan.
Russian is an official language and widely spoken in Kazakhstan, making it easier for the émigrés to live and work there. Ethnic Russians make up some 16 percent of Kazakhstan's 19 million population.
Marat says salaries in Kazakhstan are much lower than in Russia. "But living costs are different too. It's much cheaper here," he tells RFE/RL's Kazakh Service. Half of his salary goes toward rent, Marat explains, adding that the remaining half is enough to cover other expenses.
Marat is now contemplating his long-term future in Kazakhstan, the largest and richest country in Central Asia.
'I Got Used To Living Here'
Anton, another Russian émigré who arrived in September 2022, says he will stay in Oral at least until March as he waits for his wife to join him in Kazakhstan. Like Marat, Anton preferred that RFE/RL publish only his first name.
The 25-year-old native of St. Petersburg says he never imagined having to uproot and live in a foreign country. While many people he knew fled Russia after the February 2022 invasion of Ukraine, he stayed in St. Petersburg. But when the military mobilization was announced, Anton says he realized that remaining in Russia was no longer an acceptable option.
He chose Oral because the parents of one of his friends lived there and he stayed with the family for several days before moving to rented accommodation.
Anton hasn't yet found a full-time job. He pays his bills from an irregular income he earns as a math and physics tutor, charging about $4.30 per lesson. Anton's wife has recently managed to rent out the couple's apartment in St. Petersburg, which provides a welcome extra income as they start their lives anew.
"If I find a job with a salary of about $320 a month, I will stay in Oral. I like it here, and I got used to living here," he told RFE/RL's Kazakh Service.
Anton longs for the family, friends, work, home, and everything familiar he had to leave behind in Russia. But he is not planning to go back home in the foreseeable future.
Russian and Ukrainian experts predict that a second military mobilization could be announced by the Kremlin as early as February. Moscow has denied it's planning another recruitment drive.
In Kazan, Marat's family says he has received several summons requesting him to report to the recruitment center.
"Once you go there, they can take you and send you to war. Everybody knows that," Marat says.
Farangis Najibullah
RFE/RL's Kazakh Service contributed to this report.