Russia's ambassador to the United States has said Moscow should consider cutting the number of American journalists working in Russia.
Anatoly Antonov made the comments in an interview with Russia's First Channel State TV, saying that Washington has threatened retaliation after The Wall Street Journal reporter Evan Gershkovich was detained on espionage charges two weeks ago.
"The Americans have threatened us with retaliatory measures if we do not release Gershkovich in the near future," Antonov told Russia's First Channel state television. "We shall see how they will act."
Gershkovich was arrested March 29 while on a reporting trip in the Siberian city of Yekaterinburg. He was formally charged with espionage April 7 and is now being held in a Moscow prison.
Gershkovich, his lawyers and the Journal have denied the charges and said Russia has not provided any evidence.
He is the first American journalist detained on espionage charges in Russia since the Cold War.
The Russian ambassador in his interview raised whether the Kremlin will reduce the number of American journalists permitted to work in Russia.
"The Americans have a very good word — reciprocity, which they always insist on," Antonov said on the news show. "Perhaps it is the time for us to show reciprocity and reduce the number of American journalists who work in Moscow and in Russia as a whole to the number [of Russian journalists] who work in Washington and New York."
The total number of American and Russian journalists working in each country is unclear, but media organizations on both sides have reported pulling reporters out since Russia invaded Ukraine. Last July, Reuters reported that Moscow told U.S. news organizations in the country that they risked losing their accreditation unless the treatment of Russian journalists in the U.S. improved.
Wrongfully detained
Reporters asked President Joe Biden in late March whether the U.S. planned to respond to Gershkovich's arrest by expelling Russian state journalists from the U.S.
He responded, "That's not the plan right now."
On Monday, Washington officially determined Gershkovich is "wrongfully detained."
Biden has called for his release.
"We're making it real clear that it's totally illegal what's happening and we declared it so," Biden said Tuesday.
The Russian ambassador said in his state media interview that he had had a "very harsh" conversation with U.S. Under Secretary of State Victoria Nuland, who said Russia illegally detained Gershkovich.
Deputy Foreign Minister Sergei Ryabkov told the state news agency TASS on Thursday that Russia could consider a prisoner exchange for Gershkovich only after a Russian court delivers a verdict on the espionage charge.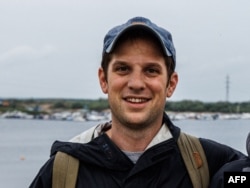 In a Monday statement, the National Press Club said that Russia's solitary confinement of Gershkovich constituted torture. Gershkovich has reportedly been held in solitary confinement since he was arrested.
"We are deeply concerned for his health," Eileen O'Reilly, president of the National Press Club, and Gil Klein, president of the National Press Club Journalism Institute, said in the statement. The National Press Club also urged Moscow to allow regular consular visits.
This week, Time magazine named Gershkovich to its 2023 list of most influential people.
"The fewer journalists there are like Gershkovich in Russia, the more freedom [Russian President Vladimir] Putin gets to rule by lies," Time correspondent Simon Shuster wrote.
Gershkovich is one of three imprisoned journalists named on this year's list. "We celebrate Evan's commitment to our profession and join in calling for his immediate release," Time said.
In an interview with The Wall Street Journal, Gershkovich's family spoke publicly this week for the first time since he was arrested.
His sister reflected on how her brother reported on Russia in a way that challenged common narratives about the country.
"America reports on Russia sometimes in a way that makes it seem like a pretty terrifying, cold place," his sister told The Wall Street Journal. "He was really passionate about showing other sides of Russia — the nuance, and the beauty of it."
The news of his arrest "was just crushing, totally crushing," his mom told the Journal. "He felt it was his duty to report," she added, despite the risk.
Russia state media has followed the Kremlin line that Gershkovich is a spy in a move that some analysts believe is an attempt to reinforce the false accusation and to make it even harder for the few remaining foreign journalists in Russia to speak with sources on the ground.
"It's safe to say that Russia is fully back to the Stalinist era when they assumed by default that every foreign journalist is a spy," Gulnoza Said of the nonprofit Committee to Protect Journalists told VOA earlier. "Ordinary people are going to be more scared to speak to foreign correspondents."
Liam Scott contributed to this report. Some information in this report is from Reuters.