The first batch of Russia's Poseidon torpedoes has been produced, state media reported.
The Poseidon is an an intercontinental nuclear-capable torpedo that was first announced in 2018.
It is considered to be one of Russian President Vladimir Putin's so-called "super weapons."
Russia has produced its first batch of Poseidon doomsday torpedoes, state media reported this week. The Poseidon is one of Russian President Vladimir Putin's six so-called "super weapons."
An unnamed source close to the Russian military told state-run news agency TASS that the Poseidon has completed a series of trials, including the testing of its nuclear power unit, and that the first batch of these torpedoes, sometimes called drones, has been produced. The report noted that Russia's defense ministry has yet to confirm the developments.
"The first batch of Poseidon ammunition has been manufactured and will be soon delivered to special-purpose nuclear-powered submarine Belgorod," the source told TASS. Russia has characterized the Project 09852 submarine Belgorod as a research vessel, despite its planned payload.
Images of the Poseidon, an intercontinental autonomous nuclear torpedo, first leaked in 2015, but the project was not officially announced until Putin did so in a March 2018 speech, touting its development alongside other super weapons in the works. A year later, Russia released a video that purportedly showed a test of the system.
A few months prior to Putin's speech, the US military appeared to reveal the existence of the Poseidon project in its 2018 Nuclear Posture Review, writing that Russia is developing a "nuclear-armed, nuclear-powered, undersea autonomous torpedo," but Russian leadership provided more detail.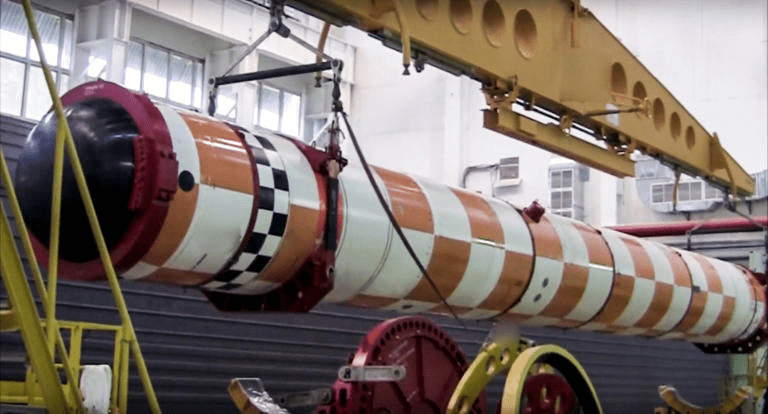 The weapon — which Russia claims has an unlimited range and can travel at speeds as fast as 125 mph — can carry nuclear and conventional warheads and is designed to attack aircraft carrier strike groups and coastal facilities. Some observers have referred to the Poseidon as a "doomsday" system because it's been argued its massive payload could potentially trigger a radioactive tsunami, which could lead to significant devastation. There is no guarantee it even works though.
Poseidon torpedoes are considered to be one of Russia's six experimental "super weapons."
"The Poseidon may be capable of performing several functions beyond assuring a nuclear second-strike capability," Chatham House wrote in a 2021 analysis of the weapon, noting that it could also serve as a testing ground for nuclear-powered unmanned underwater vehicles.
Other "super weapons" include the Sarmat intercontinental ballistic missile, the Avangard hypersonic glide vehicle, the Burevestnik nuclear-powered cruise missile, the Kinzhal air-launched ballistic missile, and the Zircon anti-ship hypersonic missile.
Some of these systems, while active, have turned out to be overblown, while others are still in testing, which at times has not gone well and at others even been fatal. One suspected test of the Burevestnik resulted in a deadly explosion that killed multiple people working on the project. It is unclear how work on the Poseidon has progressed.
TASS reported on Sunday that the Poseidon torpedoes are made for the Russian nuclear-power submarine Belgorod, which was launched in April 2019. These submarines were initially slated to be sent to the Russian navy in 2020, but this was ultimately delayed because of the COVID-19 pandemic.
Three of the vessels are expected to be delivered to the country's navy in the coming years. 
Story by jepstein@insider.com (Jake Epstein)