KYIV — Ten years ago today, the Ukrainian activist movement called Automaidan did not exist. Its head, Kateryna Butko, dreams of the day when it once again is no more — because that would mean its work is done.
"The primary mission our organization is dedicated to is our eventual disbandment and state bodies being able to function properly without constant public oversight," Butko told in an interview at the anti-corruption NGO's office in Kyiv.

The arc of Butko's adult life traces Ukraine's trajectory over the turbulent past two decades.

As a high school student in 2004, she was one of hundreds of thousands of Ukrainians who took to the streets for the Orange Revolution, the peaceful protests that led to a court decision overturning an election widely seen as marred by massive fraud. The ruling was followed by a repeat runoff in which pro-Western candidate Viktor Yushchenko defeated rival Viktor Yanukovych, who was favored by Russia.

But Yushchenko's term turned into a disappointment for many Ukrainians hoping for change, with corruption persisting as political infighting hobbled reforms and Russian interference increased. Against that backdrop, Yanukovych prevailed in the 2010 presidential election.

On November 21, 2013, with the Kremlin applying a powerful mix of pressure and incentives, Yanukovych abruptly dashed hopes for closer ties with the West by scrapping plans to sign an Association Agreement with the European Union and vowing to build stronger trade relations with Russia.

The next day, Butko — who had built a career in public relations and advertising — was back on the streets.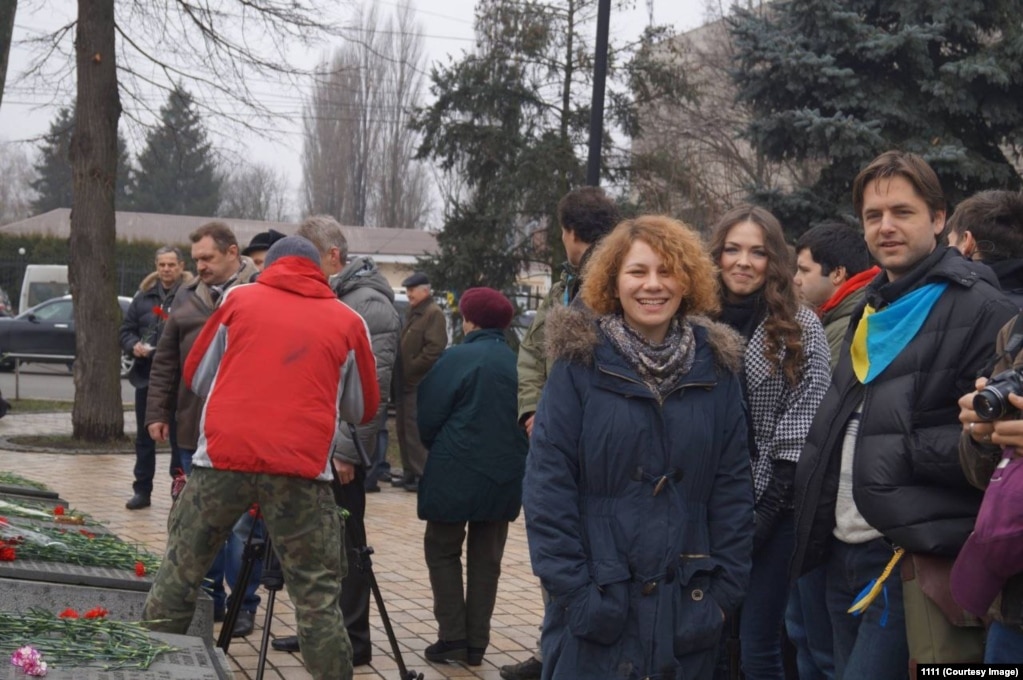 She joined the growing crowd that came out to protest on Kyiv's Maidan Nezalezhnosti, or Independence Square, turning what had been relatively small anti-corruption demonstrations into a massive movement known as the Euromaidan or simply the Maidan.

The protests, now also known in Ukraine as the Revolution of Dignity, drew in many people who previously had little interest or involvement in politics.

"People I knew gathered with clear demands — to stop the alignment with Russia," said Kostyantyn Klyatskin, who is now 32.
'Righteous Indignation'
He said he and fellow protesters were aghast at Yanukovych's decision to draw closer to Russia and a Kremlin-dominated Customs Union, a substantial reversal for a country that had joyously shed Moscow's yoke in 1991 and where many looked to a future in alignment with Europe and the West.

"Why Russia? I couldn't understand this, [and it] provoked righteous indignation," Klyatskin said.

A seasoned documentary film director with numerous projects related to current events in Ukraine, Klyatskin said that before the Euromaidan movement, he was an "unaware citizen" who just echoed his parents' views.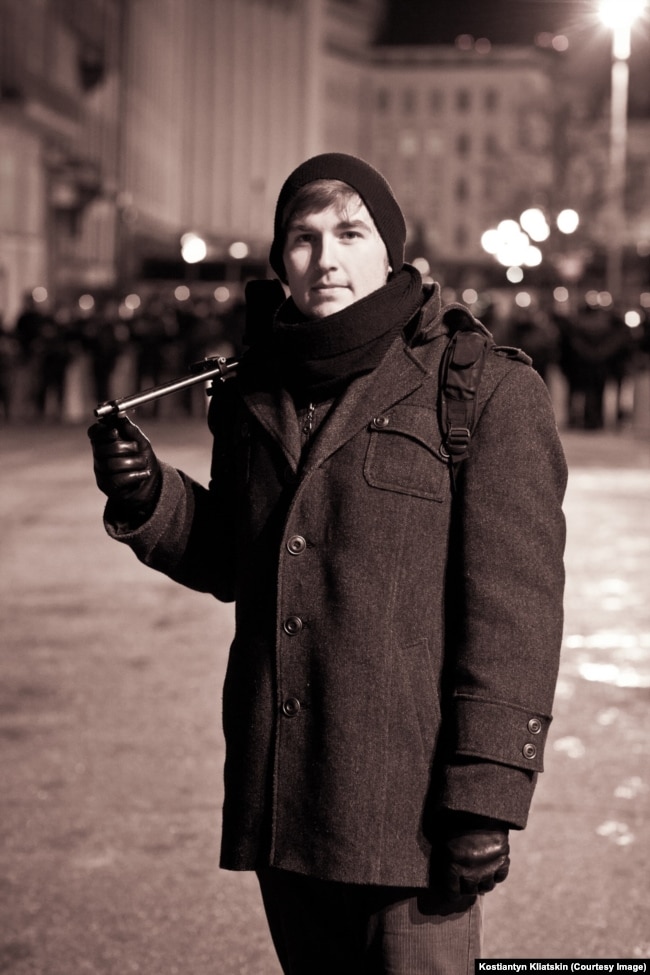 "The notion imposed on us was that we are separate from politics. This perspective led me to believe that there was no way we could influence what politicians do," he told RFE/RL.

Yanukovych and his government ignored the protesters' aspirations. On November 30, they went further: Security forces attacked the activists' camp on the Maidan under the pretext of plans to set up a Christmas tree, beating students and other demonstrators who were staying there overnight.

The forceful dispersal of the peaceful demonstration was a game-changer, sparking much larger protests — in Kyiv and across Ukraine — against the Yanukovych government. Contrary to the government's aim, it drew hundreds of thousands of people to the Maidan.

"We all realized we don't want to live in a country where beating people is possible or where the country's trajectory, built over decades, can be canceled by a single decree from the tsar," Klyatskin said.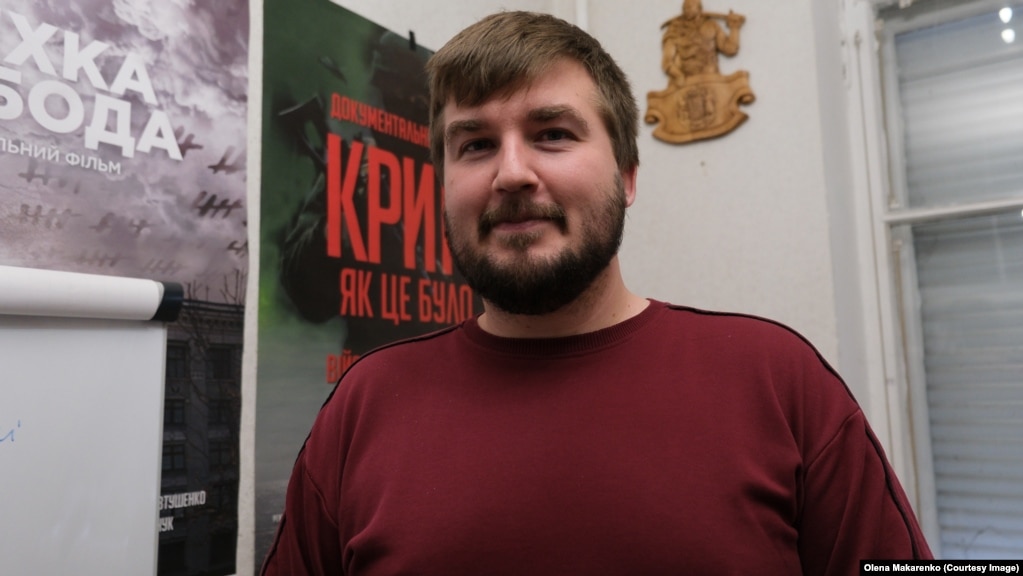 Road Rallies
This was also when the Automaidan movement emerged — the mobile wing of the Euromaidan, with motorists across the country rallying in convoys of cars and trucks. Butko joined it, offering her help as a communications specialist.

Some of the most notable Automaidan protests occurred at the end of December 2013 when motorists reached the area near Mezhyhirya, the lavish estate outside Kyiv that served as Yanukovych's residence and is now a museum displaying a gaudy lifestyle that critics say was bankrolled by graft. Butko estimates that up to 4,000 automobiles were involved.

The government implemented countermeasures in an unsuccessful bid to quash the burgeoning protests, jailing and fining activists for various alleged violations.

As tension between the demonstrators and the state mounted, Klyatskin, a university student studying TV directing at the time, joined Babylon'13, a collective of filmmakers who gathered on the Maidan. They documented the daily life of the protest and uploading their footage to the Internet.

"Each person contributed — some were chopping wood while others, like us, were filming to ensure that this story was heard," Klyatskin said of the powerful atmosphere of community and cohesion on the Maidan — a precursor to the unity that has enabled Ukraine to defend itself against the full-scale invasion that Russia launched in February 2022.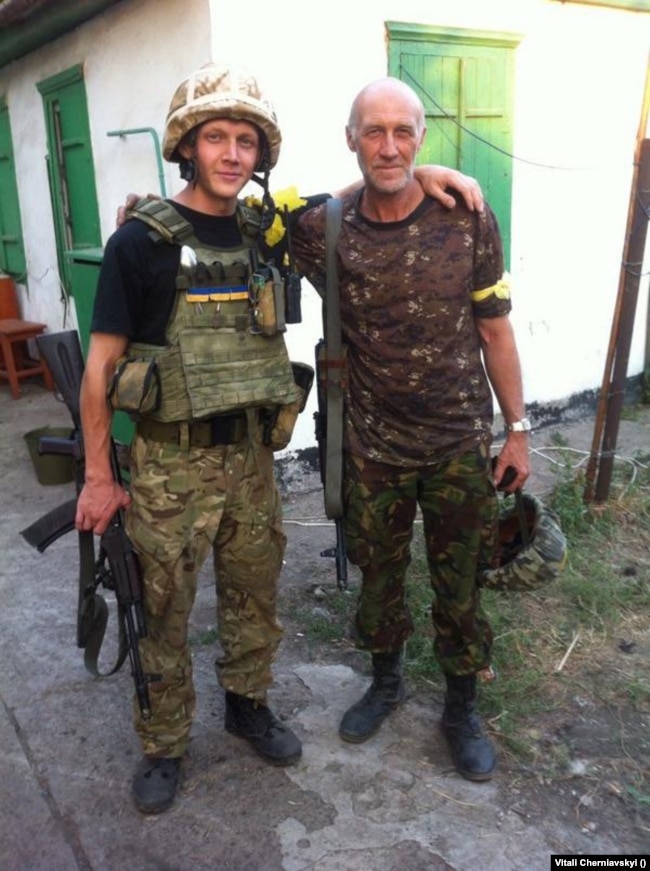 Vitaliy Chernyavskiy, 35, an IT specialist who is now a soldier, also found his role on the Maidan. As the government deployed anti-protest provocateurs on the streets of Kyiv, Chernyavskiy joined a self-defense group in the Kyiv district where he lived, participating in patrols to maintain order.
The 'Heavenly Hundred'
Along with patrolling the streets, Automaidan activists continued to organize protests near the homes of state officials.

"They could have ignored protests at the Maidan, but they could not ignore protests happening in their yards," Butko said.

The Maidan functioned as a cohesive entity until a deadly and momentous outbreak of violence on February 18-21, 2014, when government forces attacked the protesters and dozens of people were killed. Along with others killed during the Maidan protests, they totaled over 100 and came to be known as the "Heavenly Hundred." Additionally, official figures indicate that 17 police and security officers died while on duty from February 18 to March 2.

The state's attempt to disperse the Maidan with lethal force failed; protesters fought back and managed to defend the central square.

On February 21, Yanukovych agreed to a deal with opponents that included early elections — but he then fled to Russia.

Putin responded to Yanukovych's downfall by ordering the occupation of Crimea and fomenting anti-Kyiv sentiment across eastern and southern Ukraine, and war between government forces and Russia-backed fighters broke out in much of the Donbas in April 2014.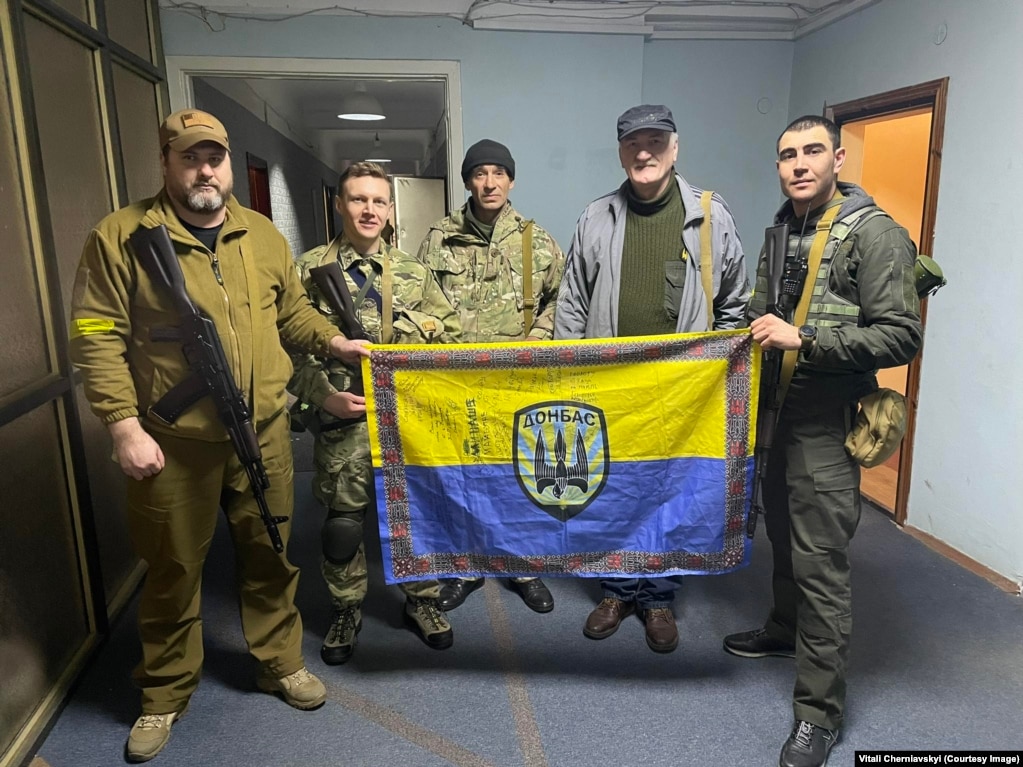 With little time to celebrate the end of the Yanukovych era, civil society groups born as a formidable force on the Maidan found themselves fighting a two-front war — against Russian aggression and against an internal enemy, corruption, that many felt played into Moscow's hands.

"Unfortunately, corruption had permeated every sector in Ukraine, from the president's office to kindergartens," Butko says.

Among the diverse areas requiring change, Automaidan and like-minded organizations concentrated on advocating reforms within law enforcement bodies and the judiciary, seeing them as the key to eliminating corruption in other areas.

"At the Maidan, we saw with our own eyes that there was no justice; therefore, courts were what we should focus on first," Butko said.

Chernyavskiy soon became disillusioned with post-Maidan Ukraine and what he described as the return of a system in which corruption and oligarchy held sway. About three months after the deadly denouement of February 2014, he enlisted in the Donbas Battalion, a unit composed of civilian volunteers.
'Russia's Hand In Ukraine'
Chernyavskiy said he met proactive people during his service, while the government, in his view, remained passive in countering Russia's assault on Ukraine's sovereignty.

After surviving a harrowing battle in August 2014 near Ilovaysk in the Donetsk region, where Russian forces surrounded Ukrainian units and attacked them despite an agreement on a safe corridor, Chernyavskiy eventually returned to civilian life — sensing, he said, that he could be more useful to the fight against Russian aggression in Kyiv than on the battlefield. He became an assistant to a lawmaker in the Verkhovna Rada, Ukraine's parliament.

"We were waging a paper war against corruption," Chernyavskiy said. "Corruption and mismanagement were Russia's hand in Ukraine, preventing us from winning at the front line."

The anti-corruption reform that unfolded included the introduction of an infrastructure for fighting graft: the National Anti-Corruption Bureau for investigating top-level corruption; the Specialized Anti-Corruption Prosecutor's Office for the procedural supervision of cases; and the National Agency for Corruption Prevention, which is meant to implement anti-corruption policy. Later, as the investigation of corruption cases was stymied in slow-moving courts, a separate Anti-Corruption Court was created to handle high-level cases.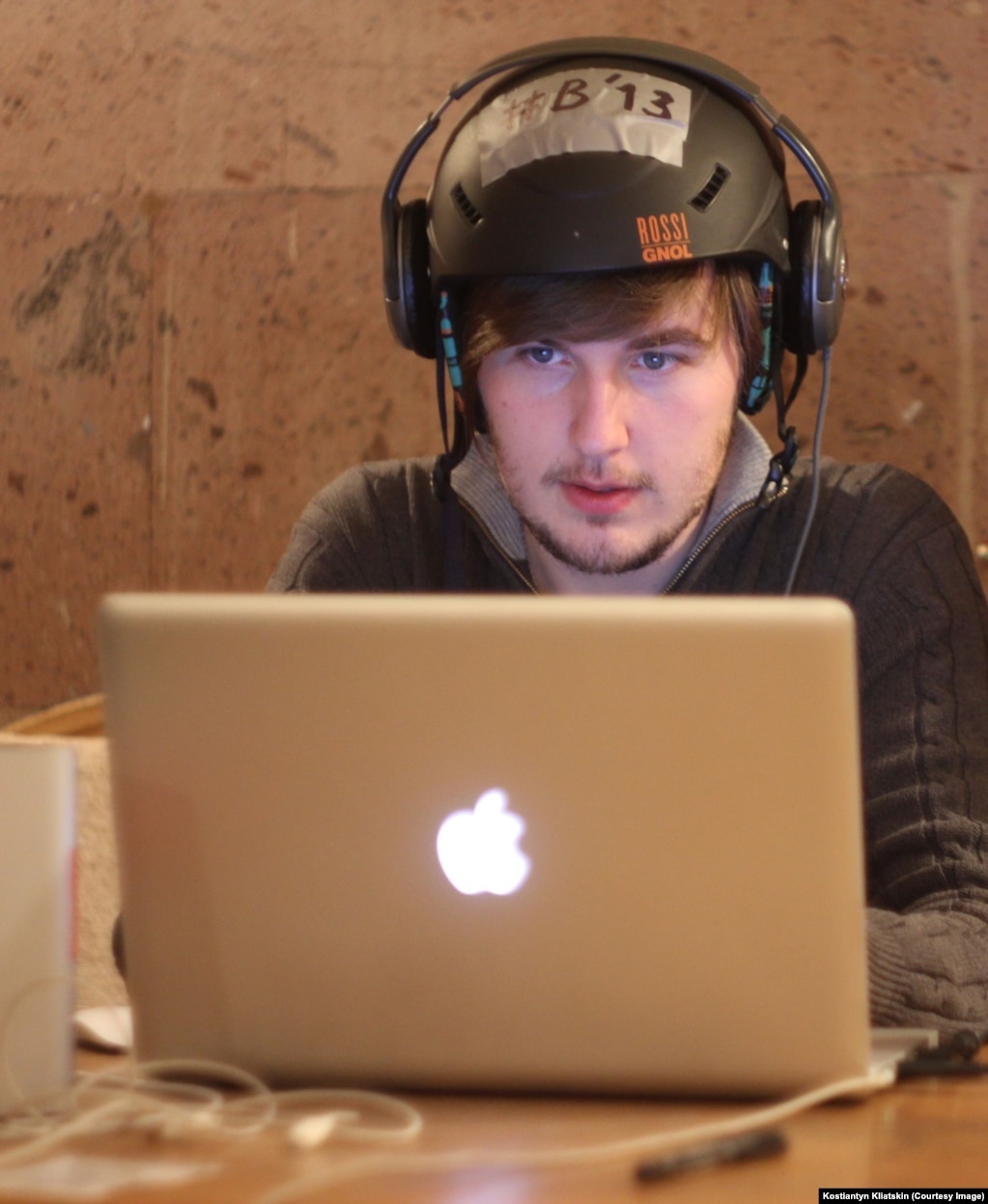 Civil society organizations like Automaidan became the most prominent advocates of reform. But progress was slow, with judicial reform efforts encountering opposition from old-guard judges and key bodies of judicial governance.

Still, life went on despite the war in the east, and the upheaval of 2014 gave way, for some, to a sense of normalcy. There were periods when cinema in Ukraine was flourishing, Klyatskin said, and Chernyavaskiy returned to his IT career after the term of the first post-Maidan parliament.

And then came the full-scale invasion.

Over the years of war in the Donbas, Kyiv's Maidan was transformed into a place where soldiers killed in the fighting were honored before burial. Since the invasion of February 24, 2022, the sprawling square has witnessed even more funerals.

In June 2022, Roman Ratushniy, who had been one of the youngest Maidan activists, was given a hero's farewell on the same square where he had protested eight years earlier. He had volunteered for the military after the full-scale war began and was killed fighting in the Kharkiv region at the age of 24.

Many other Maidan activists — including Chernyavskiy, some 40 active members of Automaidan, and several members of Babylon'13 — also joined the armed forces following the full-scale invasion.

"We try to support them as much as we can," said Klyatskin. "Drones are crucial…. If a drone is destroyed, a person's life is saved."