Of the roughly 5.5 million people living in St. Petersburg, Russia's second-biggest city and the hometown of President Vladimir Putin, eight are currently facing criminal charges under the country's draconian law on disseminating "false" information about the country's unprovoked invasion of Ukraine.
One of them is 35-year-old writer Vsevolod Korolyov, who is currently on trial and potentially facing years in prison for two social-media posts citing the evidence that Russian soldiers committed war crimes in the Ukrainian town of Bucha and elsewhere.
"We must stop this wave of hatred," he wrote from jail in response to questions from RFE/RL's North.Realities. "First and foremost, in oneself. Because it leads nowhere."
In the wake of Moscow's February 2022 mass invasion of Ukraine, the Russian government adopted a spate of harsh laws criminalizing dissent. The law on knowingly disseminating what the state deems false information about the armed forces now carries a penalty of up to 15 years in prison.
In July 2022, local Moscow lawmaker Aleksei Gorinov was given a nearly seven-year prison sentence under the law. More recently, opposition politician Ilya Yashin and Telegram channel blogger Dmitry Ivanov were also sentenced to long prison terms. In all, 149 people have faced criminal prosecution under the law across Russia.
Despite the growing risks of serious consequences, a small number of Russians, like Korolyov, continue to take a moral stand against the war and against what is happening in Putin's increasingly authoritarian Russia. And they find themselves at odds with much of the society around them.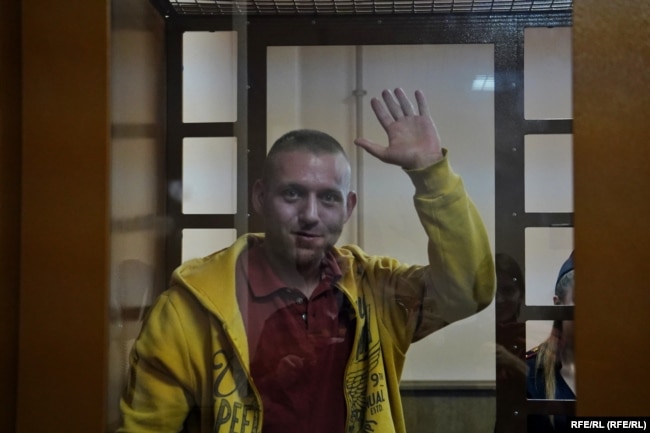 "I know for sure that if I had left Russia, I would reproach myself and I would be unhappy because I hadn't done everything that I could," Korolyov told RFE/RL, adding that he meant no criticism of the hundreds of thousands of Russians who have fled the country since the full-scale war began. "That is just who I am."
'I Was Afraid No One Would Hug Me'
On March 19, Nikita Gorbunov, a 20-year-old entrepreneur in Izhevsk, the capital of Russia's Udmurtia region, appeared in a public park holding a sign reading, "Hug me if you are against the war."
"I was afraid," he told RFE/RL's Idel.Realities. "I arrived at Kirov Park — one of the most popular places in the city. I remember how I was walking with my rolled-up sign, and I was afraid. I don't know exactly why I was afraid. I didn't know what would come next."
"When I was going to my protest, I was afraid no one would hug me," he added. "But I overcame my fear and began my picket. While I was standing there, my fear disappeared. Many people came up to me and expressed support with their hugs. Every minute, someone came."
He estimates that in the end nearly 50 people hugged him during the one hour he stood there before police took him away.
"Someone said to me, 'Unfortunately, we can't do the same,'" Gorbunov said of one family with young children.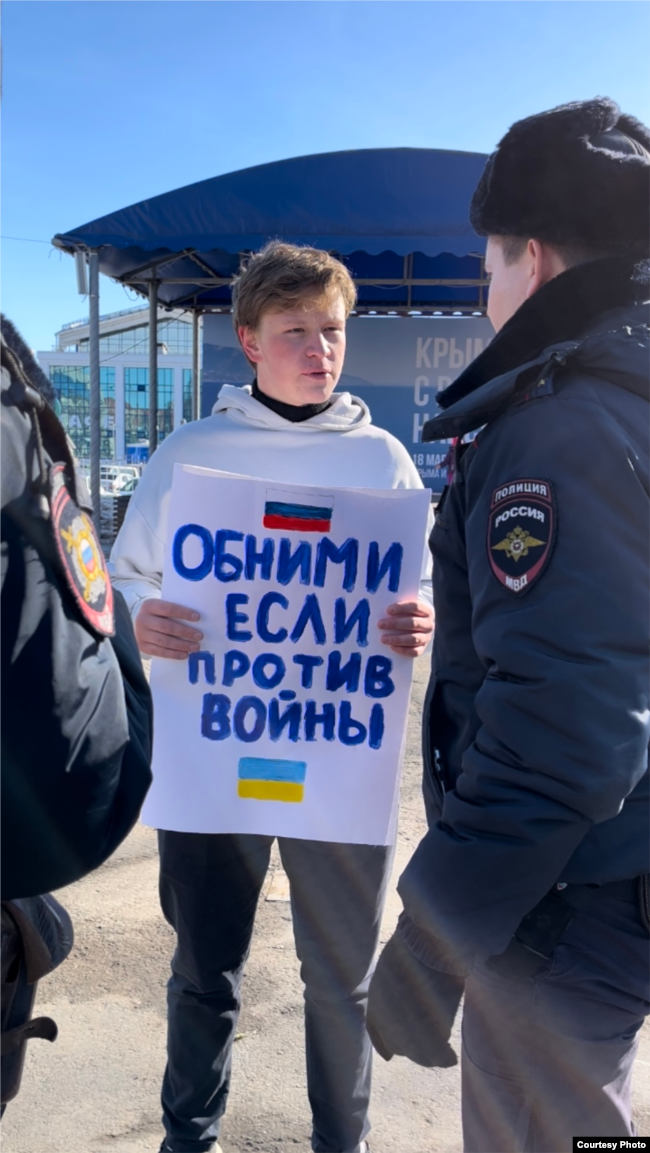 Not all passersby were so sympathetic. "A couple passed by and made a rude gesture," Gorbunov explained. "Later they came back and began photographing me…. Then they approached closer and began cursing me. It was unpleasant.
"Later it turned out that they called the police and even made a statement against me," he said.
Gorbunov is now under investigation on suspicion of "discrediting the armed forces of the Russian Federation" for holding a sign reading, "Hug me if you are against the war."
For months after Russia launched its invasion, Gorbunov made no public protests. But on January 14, a Russian missile struck a residential building in the Ukrainian city of Dnipro. Dozens of people, including six children, were killed.
"I have relatives in Dnipro," he said. "It was as if this had happened to us. I used to go there to visit."
"I suddenly felt responsible for what happened," he added. "I had to do something."
In Izhevsk, he says, there are military posters and symbols on almost every corner.
"I lost faith that there were still normal people left in Russia, but my protest changed that," he explained. "It turned out that there are still a lot of good people. I was pleasantly surprised. My faith has been restored."
'I Couldn't Be Silent'
Olesya Krivtsova, a 19-year-old student from the northern city of Arkhangelsk, was facing up to 10 years in prison for statements posted to a university social-media chat after fellow students reported her to police. Even before her trial began, the government added her to its list of "terrorists and extremists." Earlier, she'd been fined for placing anti-war stickers in public places.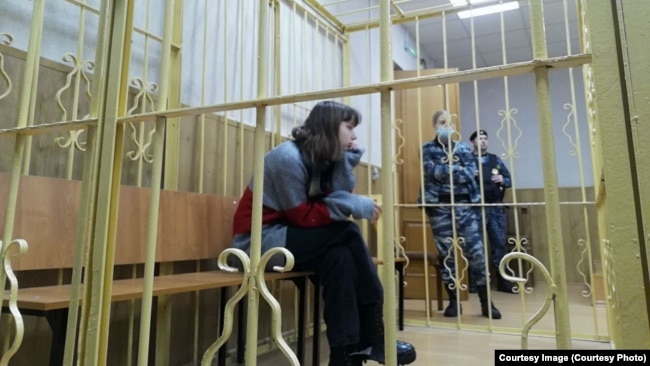 For two months she was held under house arrest, forced to wear a monitoring device. Prosecutors sought to have her taken into custody after claiming she'd purchased a train ticket out of the city. "During those months, for the first time in my life I felt real fury, when one's teeth are clenched, listening to the investigator in court lying about me buying those tickets," she recalled.
Then she realized there was no point waiting to be sent to prison. "I felt genuine hatred," she said. "I understood that no one was going to listen to me…. That is what made up my mind. In complete despair, I made the decision to leave."
She removed her monitoring anklet and snuck out of the country, ending up in Latvia.
"If not for the criminal prosecution, I would have stayed in Russia," she said. "But sooner or later it would have happened anyway. I couldn't be silent."
'Hard To Talk To People'
Izhevsk protester Gorbunov says that his relatives support his anti-war position, but many of his acquaintances have turned away from him. "I have a friend who is quite a bit older than I am," he said, "who simply blocked me everywhere after my first anti-war post. I'd say maybe eight friends blocked me."
"It is hard to talk to people about the war," he concluded.
St. Petersburg writer Korolyov made a similar observation, saying Leo Tolstoy's novel War And Peace taught him a lot about how war changes people and society.
"It is terrifying to hear how people now are talking about other human beings and what they say they are willing to do to them," he wrote in his letter from prison. "It is an abyss from which it will be very hard to emerge."
"In my dark moments," he conceded, "it seems to me that nothing I am doing matters."
Written by Robert Coalson based on reporting by RFE/RL's North.Realities and Idel.Realities. RFE/RL's Russian Service and Current Time contributed to this report