Mason Crosby's 51-yard field goal on the final play of the game gave the Packers a thrilling 30-28 victory over the 49ers on Sunday night at Levi's Stadium.
After San Francisco scored a touchdown with 37 seconds left to take its first lead of the game, 28-27, QB Aaron Rodgers completed two passes to WR Davante Adams, followed by two spikes to stop the clock. After the second, just 3 ticks remained on the clock and Crosby, who drilled a 54-yarder for Green Bay's first points of the game, came through in the clutch.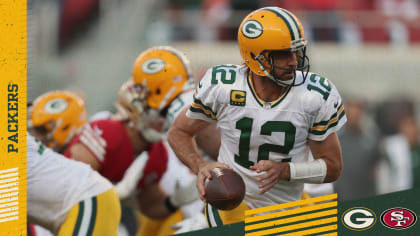 The Packers dominated in the first half, taking a 17-0 lead late in the second quarter. But a long kickoff return by the 49ers set up a touchdown right before halftime, and then San Francisco scored on the opening drive of the second half to make it 17-14.
It went back-and-forth from there, with the teams trading touchdowns and the Packers staying ahead, 24-21. A field goal by Crosby following a San Francisco turnover put the Packers up by six before the Niners drove down for their go-ahead score, which came on a pass over the middle to FB Kyle Juszczyk.
With the win, the Packers improved to 2-1 and took sole possession of first place in the NFC North after three weeks. The Niners dropped to 2-1.
For the game, Rodgers was 23-of-33 for 261 yards with two TDs and a 113.3 passer rating. Adams finished with 12 catches for 132 yards and a score, while WR Marquez Valdes-Scantling added three grabs for 59 yards and a TD. RB Aaron Jones had 19 carries for 82 yards and a score.
On the other side, 49ers QB Jimmy Garoppolo was 25-of-40 for 257 yards with two TDs and an interception, plus a costly fumble, for an 87.2 rating. TE George Kittle had seven catches for 92 yards, and WR Deebo Samuel had five grabs for 52. RB Trey Sermon led San Francisco in rushing with 10 carries for 31 yards and a TD.
Packers take a 10-0 lead over 49ers after first quarter
The 49ers won the opening coin toss and elected to defer.
Second-year tackle Yosh Nijman got the start at left tackle with Elgton Jenkins (elbow) out. The Packers opened with back-to-back Aaron Jones runs for seven yards before Aaron Rodgers hit Allen Lazard for a 42-yard completion over K'Waun Williams.
Despite advancing to the San Francisco 15, a facemask penalty and two negative plays resulted in Mason Crosby kicking a 54-yard field goal on fourth-and-31 to put the Packers ahead 3-0.
The Packers' defense earned an early stop after Kenny Clark and Preston Smith combined to drop San Francisco running back Trey Sermon for a 3-yard loss on first-and-10. Facing a third-and-6, Chandon Sullivan broke up a pass intended for Mohamed Sanu to force the punt.
After a quick 12-yard pass to Davante Adams to start the drive, Rodgers had time and delivered a pass to single-covered Marquez Valdes-Scantling for a 47-yard completion to the 49ers' 18.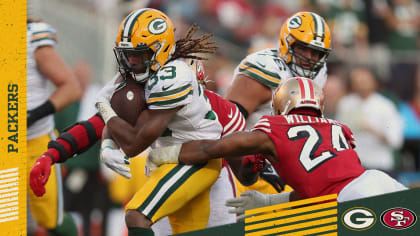 On third-and-6, Rodgers stepped up to avoid the 49ers' pass rush and found Adams on the goal line for 14 yards. Rodgers and Adams connected one play later on a 1-yard TD pass off play-action. It marked the 10th consecutive Sunday Night Football game Adams has caught at least one touchdown.
Aaron Rodgers was a perfect 9-of-9 for 127 yards and a touchdown (155.8 passer rating) in the first half.
The 49ers went three-and-out on their next possession with Jimmy Garoppolo's third-and-1 pass nearly picked up by De'Vondre Campbell.
Green Bay converted yet another third down to close the first quarter when Lazard drew a defensive pass interference call against Deommodore Lenoir, good for 15 yards.
Packers lead 49ers 17-7 at halftime
The Packers would have to punt after Rodgers was sacked on third down. After a 51-yard Corey Bojorquez punt down to the San Francisco 14, Jaire Alexander intercepted Garoppolo on a deep throw to give the ball back to Green Bay's offense at the 49ers' 32.
The Packers advanced to San Francisco's before Rodgers' first incompletion of the night coming on fourth-and-1.
The 49ers dropped back to pass twice, with Garoppolo hitting Brandon Aiyuk for six yards on a quick slant. Packers linebacker Krys Barnes was injured on the play.
Deebo Samuel caught a four-yard pass on third-and-4 for a fresh set of downs.
Tyler Lancaster, Jonathan Garvin and T.J. Slaton all combined for a 7-yard sack of Garoppolo. George Kittle caught a 16-yard pass on the next play, which nickel cornerback Chandon Sullivan was injured on. Sullivan wound return later in the quarter.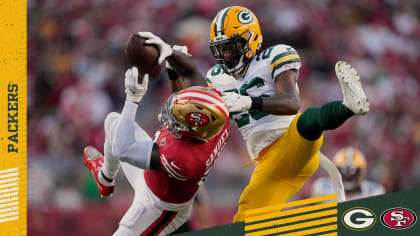 Trey Sermon was stopped on third-and-1, forcing the 49ers to punt from the Green Bay 49 with 5 minutes, 1 seconds left in the half.
The Packers converted on third-and-6 with Adams drawing a 32-yard defensive pass interference call against Emmanuel Moseley to the Green Bay 49. With Josh Norman and Dontae Johnson both on the sideline, Rodgers hit Adams on a back-shoulder pass to Adams for 15 yards on third-and-3.
After a 6-yard run by Jones, Rodgers went back to Adams on the sideline against Johnson for 19 yards. Jones ran in the 3-yard touchdown to give Green Bay a 17-0 lead after Lazard helped chip Bosa.
Trenton Cannon returned the ensuing kickoff 68 yards to the Green Bay 32. With two seconds left, rookie quarterback Trey Lance scored on a keeper to make it 17-7 at hafltime.
Packers lead 49ers 17-14 after three
Barnes was ruled out with a concussion at the start of the third quarter. The 49ers came out with a 13-play, 83-yard series that ate 7:19 off the clock and ended with an 8-yard touchdown pass to Aiyuk to cut Green Bay's lead to 17-14.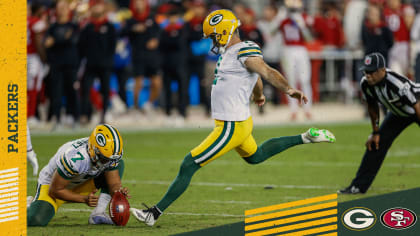 The Packers went three-and-out, punting the ball back to San Francisco less than two minutes later. The Packers' defense responded with a three-and-out after Darnell Savage tackled Kittle on third-and-3 for no gain and Preston Smith pressuring Garoppolo into an incompletion on third down.
The Packers' offense got it going on the next series with a pair of underneath throws to Adams. Dillon handled the beginning of the series, picking up eight yards on two carries.
The third quarter closed with Fred Warner getting flagged for defensive pass interference on a pass to Tonyan down the seam and Aaron Jones running for 12 yards down to the San Francisco 18.
Packers win 30-28 on Mason Crosby's walk-off field goal
The Packers extended their lead to 24-14 after Rodgers made a perfect throw to Valdes-Scantling over an outstretched defender on third-and-4 for the 12-yard TD. Green Bay went five wide on the play against the single-high look.
Rashan Gary got sacks on back-to-back plays before Eric Stokes was flagged for controversial defensive pass interference on Aiyuk. It was a 35-yard penalty.
Sanu then caught a 16-yard pass that was ruled a completion. The ball made contact with the ground and the ruling was upheld after Green Bay challenged.
San Francisco hit paydirt with Sermon pounding it in for a 1-yard TD to cut the Packers' lead to 24-21 with 7:48 remaining.
There was a helmet-to-helmet hit from Jimmie Ward on a deep ball to Adams, which went uncalled. Back judge was behind the play. Adams left momentarily but returned to the game. The Packers ended up having to punt.
On the other side of the field, Jaire Alexander was flagged for a roughing the passer and Adrian Amos was called fo tripping. Clark pressured Garoppolo into a fumble after throwing the ball backwards. Campbell recovered at the San Francisco 38.
Jones picked up 13 yards on a run up the middle on the first play. His next two runs set up third-and-4 from the 49ers' 20. After an incomplete pass, Crosby hit a 38-yard field goal to push Green Bay's lead to 27-21 with 2:39 left.
Garoppolo connected with Kittle for 39 yards on third-and-10. The 49ers converted another third-and-10 with a pass to Samuel. Juszczyk caught a 12-yard TD to give San Francisco a 28-27 lead with 37 seconds left and Green Bay with no timeouts.
Rodgers hit Adams for 25 yards down to midfield. The Packers clocked it with 20 seconds left. A throw to Adams in the seam fell incomplete with 16 seconds left.
Adams caught another pass for 17 yards, setting up a 51-yard field goal for Crosby. He made it to give Green Bay the 30-28 win.