WASHINGTON, D.C. — When Deep Vellum, a small, independent publishing house based in Dallas, Texas, agreed three years ago to publish a novel by Ukrainian author Andrey Kurkov, it planned a typical run of 2,000 copies.

But the time the book was ready for its release in March 2022, the world had changed: On February 24, Russia had launched an unprovoked invasion of Ukraine that dominated Western media and drove an unprecedented interest in Ukrainian history and culture.

Kurkov's novel Grey Bees — which depicts life in the Donbas region of Ukraine, the site of a war that began in 2014 and some of the deadliest fighting since the full-scale invasion — was "flying off the shelves," Deep Vellum founder Will Evans told RFE/RL. A year later, it is still hard to keep in stock.

Deep Vellum has sold 20,000 copies of Grey Bees since its release and is printing thousands more to meet strong demand. Kurkov's latest book, a personal account titled Diary Of An Invasion, will hit shelves in April with a 10,000 hardcover print run, the most copies Deep Vellum has ever issued for a new release.

Meanwhile, Voroshilovgrad, a novel by Serhiy Zhadan about life in the Donbas before the war erupted in 2014 following moves by Moscow to foment separatism, has been hot too, Evans said, selling nearly as many copies over the past 12 months as it did during its first six years in print.

"I've never seen a conflict in my 10 years now publishing that has generated more interest for our literary titles than this current war," said Evans, who will be issuing two more books by Ukrainian authors later this year and plans to continue to promote writers from the country.

It's part of a broader shift in the consciousness of people in the United States, Europe, and around the world. In the Western imagination, Ukraine has almost always been overshadowed by Russia — a phenomenon that persisted for most of the more than three decades since both countries became independent when the Soviet Union collapsed.

Now, however, an invasion aimed at subjugating Ukraine to Russia — to erase or severely diminish the space a country and its culture take up in minds and on maps — appears to be having the opposite effect.
Across the Atlantic and around the world, awareness of Ukraine and its culture is growing as the nation battles to maintain sovereignty and take back territory occupied by Russia.

"The only silver lining in [this war] is that the world now knows what Ukraine is, where it is, and what it stands for," Evans said, adding that Ukrainian literature is playing an important role in "shaping the narrative" for a foreign audience.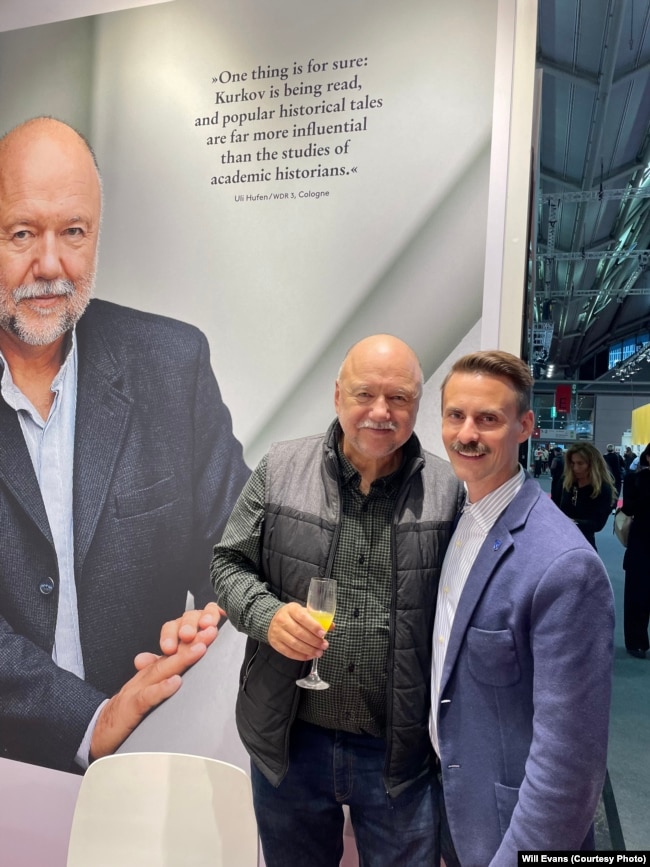 Other small publishing houses are signing up Ukrainian authors as well, and Ukrainian translators say they are now inundated with work. Yale University Press will soon release Zhadan's Sky Above Ukraine, his personal account of the invasion, while Seven Stories Press will publish a collection of short tales by Ukrainian author and soldier Artem Chapeye.

The newfound interest in Ukrainian culture goes beyond literature. People in the West are snapping up books on Ukrainian history, inquiring about Ukrainian art and film, and trying Ukrainian food as they seek to both support and understand the country.

Then there are the thousands of families around the United States and Europe opening their doors to Ukrainian refugees, learning first-hand about a country many previously knew little or nothing about.

Putin's Failure

For Russian President Vladimir Putin, the growing awareness and interest in Ukraine represent a complete failure of what may be one of his prime objectives: to convince the world that Ukraine has never really existed and cannot exist as anything but a part or an appendage of Russia.

In 2008, Putin told Bush that Ukraine was "not even a country." He repeated and amplified this patently false claim in the years and months before February 2022 – including in a 2021 article in which he dismissed the country as a "spawn of the Soviet period" and an ominous speech, three days before the invasion, in which he described Ukraine as "historically" Russian.

He has also falsely claimed that Ukrainians and Russians are "one people," implying Ukrainians have no unique history and culture.

In Ukraine, Russian forces have bombed museums, looted art and cultural artifacts, made Russian the main language of education in occupied territories, and deported Ukrainian children to Russia in what Kyiv says is an attempt to wipe out Ukrainian identity.

Before the full-scale invasion last February, many in the West would not have given Putin's comments about Ukraine much pushback – and some have even echoed his assertions on social media and on TV.

Numbers are hard to come by, but anecdotal evidence suggests that long after the Soviet collapse of 1991, many Americans and Europeans viewed Ukraine as a part of the Russian world, or even part of Russia. There were very few Ukrainian history classes at universities and very little promotion of Ukrainian literature, art, or movies at bookstores, museums, and theaters.
Ukraine and other former Soviet states had become "one endless Russia" for many in the West, Ukrainian historian Olesya Khromeychuk said in a post in March 2022.

But the Russian invasion and Ukraine's resistance have changed that.

Vitaly Chernetsky, a Ukraine-born professor of Slavic languages and literature at Kansas State University, said that for "many, many years" he had to describe to Americans what Ukraine is and what it is not: Russia. That is now a thing of the past.

"You no longer need to do that type of explaining," Chernetsky told RFE/RL. Ukraine is now "a concrete place in the minds of ordinary people in the U.S."

The substantial numbers of Ukrainian flags in front of homes around the United States are a testament to that shift.

Ukraine spent some unwanted time close to the center of American attention a few years ago, when the country was embroiled in U.S. political machinations, matters that led to impeachment proceedings against President Donald Trump in 2019-21.

The spotlight on Ukraine now, though, is both bigger and far starker, resulting in a more substantial shift in perceptions.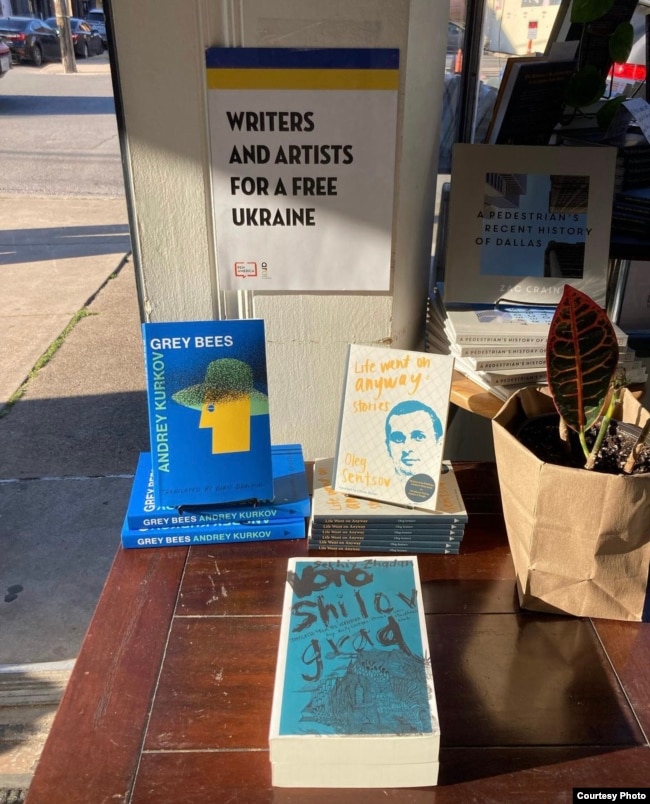 The main driver of this change may be the fact that the brutality of Russia's war — and the remarkable resistance to an assault that many believed would swiftly bring the country under Moscow's thumb — are on display day and night in the Western media.

"The hearts of the people lean heavily Ukrainian, heavily," Scott Eubanks, the owner of a gallery in Scottsdale, Arizona that specializes in art from the former Soviet Union, told RFE/RL. He said customers are "thrilled" when they learn the painting they have chosen to purchase is by a Ukrainian artist.

Ukrainian President Volodymyr Zelenskiy has been instrumental in driving the shift. He has addressed the U.S. Congress, the British Parliament, and other Western legislatures in person; chatted with actors like Ben Stiller and Sean Penn; hosted U.S. television personality David Letterman on a Kyiv subway platform; and walked with U.S. President Joe Biden in Kyiv this week as air raid sirens sounded.
The efforts of the Ukrainian diaspora have also played a role in raising Ukraine's profile. But so too have people like Angela Boelens, a professor in the American Midwest who has no direct ties to Ukraine.

Boelens, a resident of DeWitt, Iowa, is among thousands of Americans who have volunteered to host Ukrainian refugees under a Biden administration program. Her nonprofit organization IA NICE has helped resettle eight Ukrainian families with five more coming, she said.

As part of her effort, Boelens regularly gives presentations about Ukraine, the conflict, and the needs of refugees to people in her community, including to schoolchildren and teachers.

Local residents are also gaining an understanding of Ukraine directly from the refugees, she said.

"We're learning about what's going on over there. And we're learning through the people who arrive," Boelens told RFE/RL. "Everyone wants to get to know these folks."

'The Need To Get The Story Straight'

At U.S. universities and museums, substantial changes are afoot that are helping shape the new perception of Ukraine while also being pulled by it.

Many universities have given Ukrainian scholars temporary teaching and research positions while also offering courses in Ukrainian history or Russian-Ukrainian relations.
Last fall, Yale University history professor Timothy Snyder put his 23-lecture course titled The Making Of Modern Ukraine online for free to widen the potential audience.

The episodes — which, among other things, provide a detailed refutation of Putin's claims about Ukraine and its history — have received between 140,000 and 1.5 million views each.

The Museum of Modern Art in New York, one of the most visited museums in the world, devoted a gallery to the work of Ukrainian artists shortly after the war began.

Smaller museums around the United States have been holding exhibitions of Ukrainian art and photography as well, increasing the recognition young artists like Mykyta Kadan.

Thames and Hudson, a leading publisher of illustrated art books, has just released two works dedicated to Ukrainian art and culture, including one to coincide with a major European exhibition of Ukrainian modernist art. The books appear to be the first ever dedicated to Ukraine in the publisher's 73-year history.
Russia's war on Ukraine and its culture has sparked introspection across many fields, especially history and art, where there has been headed debate about the influence of Russian colonialism.

Many artists born in Ukraine during the Tsarist or Soviet periods have long been labeled as Russian, but educational and cultural institutions are now reviewing the historical record.

New York's Metropolitan Museum of Art recently reclassified artists including Ivan Aivazovsky, Arkhyp Kuindzhi, and Ilya Repin as Ukrainian and renamed an Edgar Degas painting previously titled "Russian Dancers" to "Dancers in Ukrainian Dress." Britain's National Gallery had months earlier renamed the same painting.

Peter Doroshenko, the director of the Ukrainian Museum in New York and an advocate of such changes, told RFE/RL that he expects more museums to follow suit.

"The war has changed dramatically the need to rectify and get the story straight," he said.